Pain advertising for any healthcare practice can prove to be extremely beneficial as it allows caregivers to cater to the specific needs of their target audience, thus forming an incredible bond! What is pain advertising, and why does your medical practice need to incorporate it into its marketing strategy? Let's find out!
What Is The Meaning of Pain Point?
A pain point can be defined as a recurring problem or inconvenience your prospective consumer is facing. To put it simply, it is a predicament or issue encountered by your potential patient that is yet to be addressed.
Depending on your target market, these problems or issues can be extremely diverse, and your customers may need to be familiarized with them. This is why it is important to identify your user pain points before you target them. If you want to find out how to identify customer pain points, keep reading!
What Is Pain Advertising?
As the name suggests, pain advertising is a marketing technique that specifically targets your target audience's pain points through marketing efforts. This marketing strategy is extremely promising as it directly addresses your prospect's problems and offers a valid solution in the form of a service or a product.
To leverage these pain points into your marketing strategy, you first need to identify the problems or issues your prospective clients might need support for. Once you have determined that, you can incorporate visual marketing into your social media marketing, email marketing campaigns, and PPC ads to attain the best results.
Remember, the correct approach to pain management marketing can help your practice get noticed & appreciated as well!
Sign me up! I'd like to receive text messages related to appointments and general information from MarketingWind. I also agree to the SMS Terms and understand the SMS Privacy Statement. Consent to SMS messaging is not required to receive services. Message and data rates may apply. Frequency varies per user. Text UNSUBSCRIBE to opt out. 2. No cost 3. Available to you 24/7
According to IBM, a majority of customers do not feel understood by brands!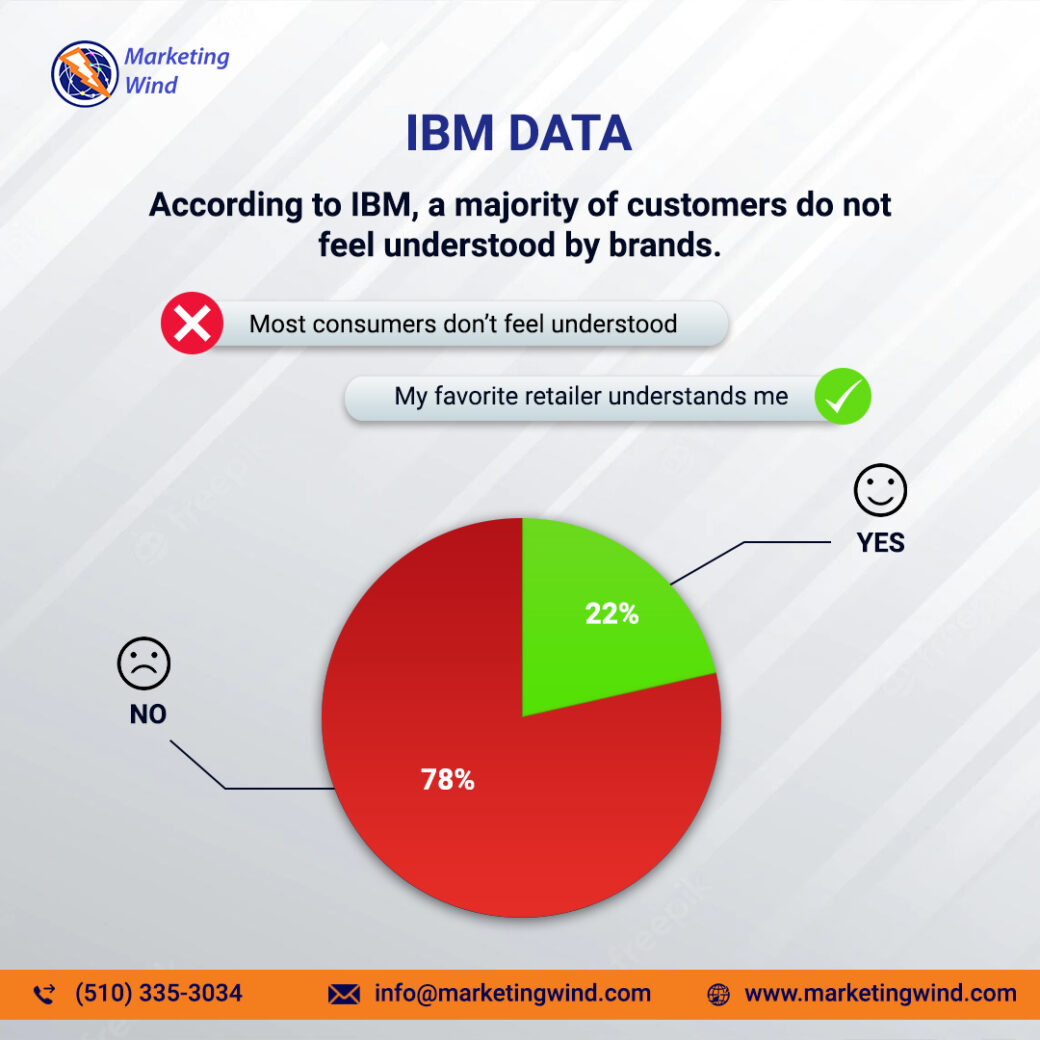 Be On The Lookout – The Types of Customer Pain Points 
Knowing the pain points of your target audience can help you build a strong marketing strategy! As pain points can be of many types, a thorough evaluation can help you determine which modern pain management advertisements can help you connect most with your potential consumers.
Take a look at these types and pain point examples to better understand what you can leverage in your marketing campaigns.
Financial Pain Points
Financial pain points involve monetary conundrums. For example, your patients might be looking for a cost-effective version of a service or product that hasn't been introduced yet.
Process Pain Points
These pain points can cause complications in completing a certain process. For example, consumers might need help filling out their insurance forms to receive a service or purchase a medical device.
Emotional & Social Pain Points
These pain points are connected to emotional & social stigmas. For example, the need to feel loved or accepted by society or even your own family. Emotional or social pain points are one of the most powerful factors that can help you create influential marketing campaigns.
As a majority of people fear being judged or sidelined based on stereotypical behaviors, such pain points can  connect with the consumers. Take this ad, for example, the perfect visual representation of leveraging an emotional pain point into a digital advertisement.
Productivity Pain Points
These pain points are related to the progress achieved in a given time. For example, a patient might spend several months in physical therapy to achieve desirable results, something you're willing to offer in a reduced time with a new methodology or medicine.
Physical Pain Points
Physical pain points are the most prominent, visible, and tangible issues that cause inconvenience to your patients & pain advertising built on such pain points is most likely to succeed if your medical practice can offer concrete solutions for them.
Ready to expand your practice? 
Marketing Wind can provide you with the best social media plans that are built on pain advertising! 
6 Reasons Pain Advertising Can Help Your Healthcare Practice Grow
1 – Connect With Your Target Market
Marketing pain points in an effective & carefully curated way can help your medical practice build stronger bonds with your target audience. Healthcare practices that can connect with their potential patients by understanding their needs, wants, and market gaps tend to thrive better & you can do the same for your business as well.
2 – Leverage Pain Advertising To Resonate With Your Consumers 
Offering customized solutions to the pain points of your potential patients isn't just a way to drive more sales. Utilizing pain point marketing also means that you care enough about your patients that you are willing to make a concentrated effort to identify what bothers them and how your product or service can relieve them.
The reason pain ads resonate so well with your consumers is that this approach does not appear salesy; rather, your consumers see it as their needs finally being met.
3 – Steal The Spotlight From Your Competitors 
As healthcare is a competitive industry, it is important that you do something extraordinary to make your mark and stand out from your competition. One of the best ways to do that is by creating creative pain advertisement campaigns that offer you a unique edge.
Not just this, as pain points are not stagnant factors, you can always stay ahead of your competition by identifying new & emerging gaps to which your services can cater.
That being said, by the end of this article, you'd have important insights into how you can identify customer pain points to drive the best results and stay abreast.
4 – Drive More Tractions
As you speak to the direct needs of your target audience, your pain ads have a great opportunity to drive more traction, whether from your prospective patients or other consumers.
Remember utilizing user pain points in advertisements can help your medical practice with a global outreach, which means that a wider audience gets to respond to these marketing efforts, thus enhancing your ad performance!
5 – Strengthen Positive Relationships To Build Customer Loyalty 
Once your patients start to see you as someone who cares about them, the chances of them picking you, increase significantly. This means that pain advertising gives you an amazing chance to build customer loyalty, increased brand awareness & brand authority.
Remember that every other competitor might be offering the same services as you, but understanding your potential patients' daily challenges and building on that distinguishes your medical practice from others. 
6 – Increased Clicks, Captures & Conversions
Pain advertising has a greater chance of being clicked. It is a known fact that consumers connect better with advertisements that they can relate to. This is the very reason that storytelling techniques are prone to attract more clients. This means that this form of advertising can increase click-through rates,  boost your organic traffic, and enhance your conversion rate, thus leading to a greater return on investment!
FAQs
How To Identify Customer Pain Points?
As all of the pain advertising marketing efforts depend on identifying these issues, here are a few tested methods that can give you a better understanding of what your potential patients go through daily.
1. Crowdsourcing
Crowdsourcing is a quick & effective data-collection technique. According to a report compiled by Medallia, over 3000 consumers were of the view that customer feedback surveys aren't effective, mostly because of their lengthy questioning. This problem can be solved by resorting to crowdsourcing methods, which allow marketers to gather data through the internet, social media, and smartphone applications. Just make sure to ask the right questions that can help you pinpoint the exact user pain points.
2. Online Reviews
Reviews & comments are a great way to gain insights into what your consumers say about your product or service. According to BrightLocal, 74% or almost 3 in 4 consumers have claimed to have left a review for a local business they've been to. You can use the available digital platforms like Facebook, Twitter, Instagram & Youtube to conduct this research.
3. Polls
Online polls are quick, efficient, accurate, and easy to answer and help you reach a wider audience. Identifying user pain points by conducting online polls can give you scalable data for your advertising.
4. Competitor Evaluations
Evaluating your competitor's websites, online platforms, prices, offers, services, etc., is one of the best ways to assess your own potential. By doing this, you can check if they include any customer pain points in their marketing efforts that you can use or enhance.
Is Pain Advertising Ethical? / Is Pushing Pain Points Ethical Marketing?
Yes, it is ethical, given that you are not building on the negativity of your consumer's problems and issues but rather promoting a positive solution to help them. Pain point marketing requires that you not incite fear or anxiety among your consumers but address the problem only to offer a viable resolution.
Takeaway – 6 Reasons Pain Advertising Can Help Your Healthcare Practice Grow
Incorporating pain advertising in your marketing strategy means putting ahead the needs and wants of your potential patients, which is a great way to build trust & loyalty. Just remember to research your customers' pain points holistically & build your creative pain ads on evidence and ethics to drive maximum conversions.
Marketing Wind is a remarkable healthcare digital marketing agency that can help you utilize pain advertising in your landing pages, ad copy, and email marketing!